Joint Replacement: What to Expect Before & After
Categories: News
---
Ask an Orthopedic Series #AskAnOrtho
QUESTION:

"I recently became a candidate for joint replacement surgery – What can I expect during and after the procedure?"
Finding out that you are a candidate for joint replacement surgery can be overwhelming, but if you find yourself living with debilitating joint pain as a result of arthritis, injury, illness or age, then a joint replacement surgery has likely been recommended to permanently eliminate your pain and improve your mobility and range of motion.
Experiencing pain in your joints can not only keep you from enjoying your favorite recreational activities, but it can also hinder your ability to perform the most simple everyday functions, like walking, bending, climbing stairs, and even sleeping. At the Central Orthopedic Group we recognize that sometimes medications and physical therapy can help to relieve pain and discomfort, but in some cases the relief is only temporary and it might be time to consider a joint replacement procedure. When it comes to your joints, extensive experience, education and state-of-the-art technical training are of the utmost importance when selecting your surgical team. Dr. Jorge Baez of The Central Orthopedic Group, is an Orthopedic Surgeon specializing in Joint Replacement Surgery. Dr. Baez takes us through what a patient can experience during and after a procedure at The Central Orthopedic Group.
What happens during a joint replacement surgery?
With the use of the most advanced and cutting edge equipment, your surgeon will replace your damaged joint with an artificial one. This implant will reflect your body's natural formation for the highest degree of comfort and healing, and will have you moving pain-free and comfortably for years to come. In addition, the growth in industry-wide technology and techniques can mean fewer and smaller incisions, shorter hospital stays and faster recovery times.
How long is my hospital stay?
Hospital stays can vary patient-to-patient, but you can typically expect to be in the hospital for two to four days following a joint replacement surgery. Your physical therapy and rehabilitation will begin at the hospital and you will likely start moving around and walking as early as the day after your procedure! Your surgeon will work in conjunction with the hospital rehab specialist to create a personalized PT plan for you to continue once you are discharged. Following and committing to your physical therapy plan will assist you in regaining both your strength and range-of-motion so that you can return to all of your favorite activities without pain.
What to expect after surgery
Once you've recovered from your procedure, most or all of your pain and stiffness should go away and your mobility should improve tremendously. Most patients are able to return to their daily activities without pain. Participation in sports will be determined by the type of activity; low-impact sports like swimming or biking can be resumed much sooner than higher-impact activities like running or soccer. A full patient recovery will take several months to a year.
Meet Dr. Baez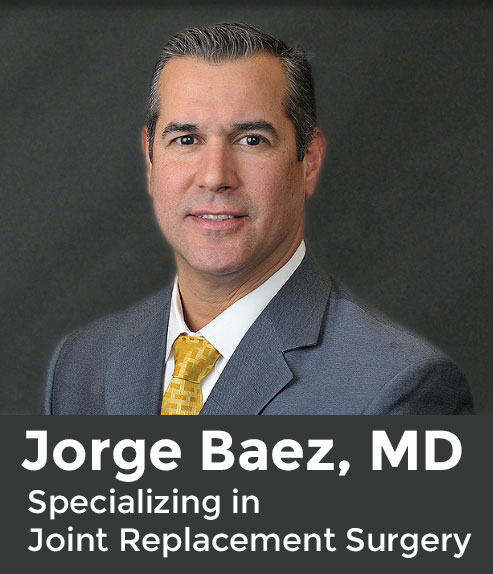 Specializing in joint replacement surgery, with a sub-specialty in adult reconstruction, Dr. Jorge Baez of The Central Orhopedic Group holds hospital affiliations at North Shore University Hospitals (Plainview & Syosset), Mercy Hospital (Rockville Center), St. Joseph's Hospital (Bethpage) and Melville Surgical Center (Melville). A graduate of NYU, Dr. Baez has been practicing medicine for over 20 years. Dr. Baez, who is fluent in Spanish, holds various academic titles, honors and accolades over his extensive medical career.
What can artificial joints be made of?
Ceramic Materials
Strong Plastics
Metal Alloys