As orthopedists, we like to keep watch for advances to 3D printing, and just how important it is becoming to the medical field. While 3D printing technology has been around for 30-plus years, it has recently been a hot button topic in the news, with the announcement that Carolina Panthers linebacker Thomas Davis, Sr would be wearing a customized 3D printed brace in the Superbowl. But at The Central Orthopedic Group, we recognize that braces are not the only medical use for 3D printing.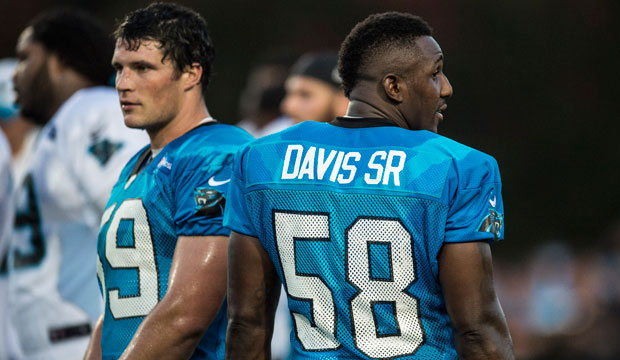 Image from panthers.com
"3d Printed braces are just skimming the
surface of Orthopedic Possibilities!"
The process of 3D printing is simply creating a three dimensional object from the data found in a digital file. 3D printers are now available for purchase at local office supply stores, allowing the masses to create anything from toys to jewelry, right in their homes. On a larger scale, scientists and designers have used 3D printers to make automotive parts and airplane wings!
Over the years since 3D printing was first introduced, materials and technology have advanced, and the cost for each has decreased. This has allowed medical professionals to utilize 3d printing technology in their practices and surgical procedures. When a patient receives a CT, MRI or x-ray, the digital file can be turned into a three dimensional blueprint of the data collected. This means an exact model of an individual patient and their individual ailment; 100% customization. This model can then be used by the surgeon to help explain the procedure and diagnosis to the patient and their family, as well as their surgical team. In addition, this 3D prototype allows the doctor to practice surgical techniques, and pinpoint the exact procedural plan they would like to move forward with, before the patient even sets foot in the operating room. This means shorter operation times, improved accuracy, and simplified procedures.
In addition to practice models, as discussed above, 3D printers have also made prosthetic limbs for amputees and new facial structures for trauma victims. Additional 3D printing use in the orthopedics field includes instruments for knee replacement surgeries, spinal surgeries and artificial joints. In short, 3D printing technology has had a huge impact on the medical industry, and at The Central Orthopedic Group we look forward to staying abreast of these solutions, and how they will allow customization to our patients in the years to come.
Today's 3D Printers have the ability to create objects in a a multitude of materials, including:
Plastics
Silicone
Silver
Gold
Titanium
Other Metals
Ceramics
Wax
Food
Future printers may have the ability to combine materials. Researchers at the Massachusetts Institute of Technology have created a prototype 3D printer that can build models with up to 10 materials at once!
Did You Know?
A sector of the Japanese Ministry of Health, Labour and Welfare Department has announced that the cost of 3D printed organ models that are to be utilized in medical treatments and surgeries will be covered by standard medical insurance, as a way to ensure that Japanese citizens have access to life-saving medical procedures.