Top 5 Most Body Taxing Jobs
Categories: Back Pain
---
Did you know that the average person spends almost half their lives working? Therefore, if you find yourself feeling mysterious pains, aches or bruises, it's likely that you have your job to thank.
Usually, our jobs are pretty repetitive. Day in and day out, it calls for the same exact routine. Additionally, if this routine requires a certain degree of movement or physical activity, it can wreak havoc on your bones, muscles and joints. Often, as a Long Island orthopedist, our patients are suffering from pain induced by their jobs.
Ultimately, if you find yourself wondering if your job is causing you physical distress, you might be right. Therefore, we've listed the five most physically taxing jobs below, and if yours is included, then you have your answer! But, any of your pain, whether it's from your job or not, can be managed with some natural remedies.
This post has been updated in March 2022, from its original publish date of February 10th, 2017. It has been edited for consistency and updated information on our services.
#1 Construction Workers
Of course, this was most likely the first job that came to mind when you thought of physically demanding careers. Construction workers spend eight hours (or more) a day wearing their bodies out. Also, in the construction field, overtime hours are often called for, which greatly increases the damage.
In addition, construction requires regular heavy lifting. And most workers don't lift their loads the proper way. As a result, the heavy lifting wears out their back and legs very fast. Fortunately, some back exercises can help to alleviate pain from heavy lifting.
Even the frequently used power tools can cause a considerable strain. Their motors cause them to vibrate violently. And this will often cause arthritis in their hands, broken bones or chronic wrist and shoulder pain. Hand pain from power tools can be mitigated with some simple hand exercises.
#2 Wait Staff & Servers
Did you know that waiting tables is ranked among the world's most stressful jobs? Fast-paced, demanding and sometimes overwhelming, it can be very unpleasant. And now we know that the job causes not only mental distress, but considerable physical distress as well.
Servers are constantly in motion. Excessive walking, lifting and bending dominate their time working. The frequent demands on the body make physical damage inevitable. The primary areas afflicted by the jobs are the back, knees, feet and neck. Knee pain from waiting tables can be reduced with low-impact exercises.
There are ways for servers to avoid any severe or long-term damage to their bodies. If you're a server, it's recommended that you eat a wholesome diet, exercise and pay close attention to your joint and muscle health.
#3 Musicians
Yes, you read it correctly. While this might seem like a career option impervious to physical distress, that's actually not the case. Musicians spend day after day making the very same repetitive motions with their instruments.
As we now know, these constant repetitions in motion are what often cause pain. The kind of movement required of musicians place a great deal of strain on their muscles and joints. It can also lead to arthritis, or general stiffness.
Preventing pain and arthritis is very difficult. But musicians can avoid severe pain by changing their physical routine when playing their instruments. Developing an aptitude for switching hands can be a big help. And figuring out the best way to hold their instrument can also make a big difference.
#4 Teachers
Teachers spend the vast majority of their days on their feet. And they also spend their days making a lot of the same repetitive movements.
Both of these practices can damage both their joint and muscle health. And it's definitely not great for their feet, either. Teachers should invest in good footwear, with soles that compliment their feet and ankles.
Flat or low-heeled shoes that provide ample support for their feet (and arches) can also prevent pain. Female teachers should make a concerted effort to avoid high heels. They can only worsen foot pain, and also lead to issues in their backs and necks.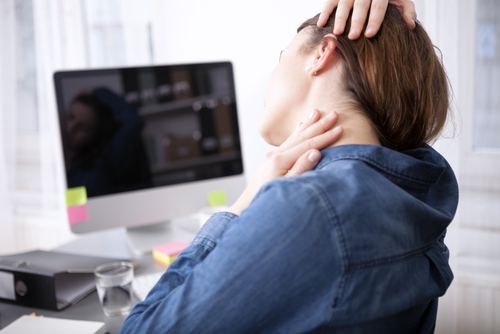 #5 Health Care Workers
A lot like teachers, health care workers spend a great percentage of time on their feet. And a lot like teachers, nurses and paramedics can avoid considerable pain by investing in comfortable and supportive footwear.
Most healthcare workers, especially paramedics, have to do heavy lifting on the job. Lifting patients into position, or stretchers into an ambulance, causes a big strain on the back and knees.
To mitigate muscle and joint strains, healthcare workers should take advantage of wheelchairs and gurneys whenever possible. They can be a huge help to spare them some of the pressure they place on their bodies.
---
Conclusion
Just because you don't work in one of these positions doesn't mean your job isn't physically demanding. Even the average office job can lead to pain, usually in the back. There are effective ways to create a spine-conscious office space to prevent this. At the end of the day, just about any position can damage an employee's body. Most of our jobs require many of the daily, repetitive motions mentioned earlier. And these are the kinds of strains that can lead to pain and aches. Ultimately, remember to never postpone your orthopedic treatments.