Fernando Checo, MD – Neck & Spine Surgery Specialist
Categories: News
---
At The Central Orthopedic Group, our mission is to help all of our patients recover from injuries with minimal pain, and return to an enjoyable, pain-free lifestyle. Our versatile staff is eager to help patients during each phase of recovery. From diagnosis, to devising a recovery strategy, and ensuring that this recovery is sustained. Fernando Checo MD is a key member of this team. With an expertise in neck and spine surgery, he has been invaluable in helping countless patients overcome recovery obstacles.
Fernando Checo, MD Expert in Neck and Spine Surgery
Dr. Checo has dedicated his career to helping patients improve their quality of life. He specializes in non-operative and operative management of cervical, thoracic and lumbar spinal conditions. After earning a Bachelor of Arts Degree in biological science from Binghamton University, Dr. Checo went on to earn his doctorate degree from Meharry Medical College. He then completed his residency at the University of Connecticut's New England Musculoskeletal Institute, before finally participating in a Spine Surgery Fellowship at Tufts University. Additionally, Dr. Checo actively teaches and trains spinal surgery students at Northwell Hospital at Plainview.
An experienced spinal surgeon, Dr. Checo has become an expert in several complex procedures.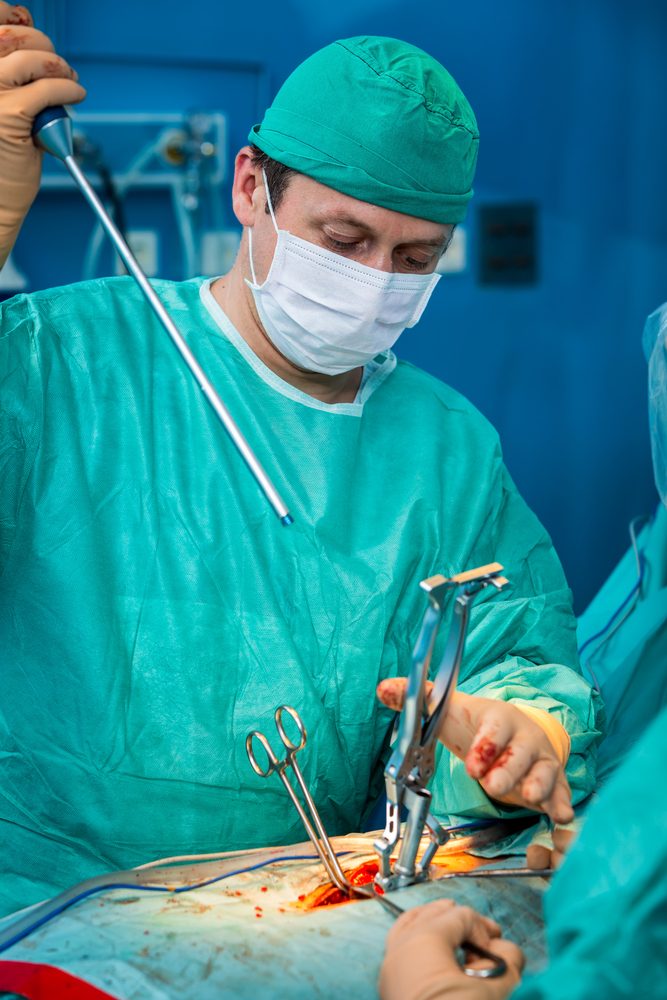 Spinal Revision Surgeries
For patients who are not fully cured of spine-related pain after an initial procedure, the orthopedist may recommend a spinal revision surgery. One of Dr. Checo's areas of expertise, the goal of a spinal revision surgery is to restore the spine to its normal position. Thus, eliminating pain and discomfort. These revision surgeries are often necessary for patients with recurring disc herniations, pseudoarthrosis, total disc replacement, or issues with hardware implanted during the firsts surgery.
Scoliosis Spinal Fusion Surgery
Some cases of scoliosis are mild. They may be treated with either a back brace, physical therapy, various stretches, or a combination of the three. When the curve in the spine is more severe than 45 degrees, though, child and adult scoliosis patients may require spinal fusion surgery to eliminate spine-related pain, and prevent the condition from worsening. Helping patients to recover from scoliosis spinal fusion surgery is another specialty of Dr. Checo's. During this surgery. The surgeon's goal is to fuse the curved bones together, resulting in a straightened spine and reduced pain.
Flat Back Syndrome
Dr. Checo is also highly adept at helping patients with flat back syndrome. Patients with flat back syndrome, a condition in which the curves of the spine prevent them from performing basic tasks like effortlessly walking and standing, often require attention from a surgeon. In order to correct the alignment of the spine and restore the spine's gravity line, the surgeon performs one or more precise osteotomies, or cuts into the bone. This allows the spine to assume a straightened position.
Tumor Removal Procedures
Additionally, Dr. Checo is experienced in tumor removal procedures. Because the size, type, and stage of the tumor, along with the general health of the spine can vary, these procedures require a precise and patient-focused approach.
Dr. Checo's Volunteer Experience in the Dominican Republic
Dr. Checo's passion for helping patients enjoy a higher quality of life has previously brought him to the Dominican Republic. On a medical mission trip during the February of 2016, Dr. Checo educated resident surgeons about innovative new surgical techniques and technology. He also performed surgeries on children with spinal deformities.