Fernando Checo, MD was recently featured in Long Island MDNews, a print and online publication covering highly ranked orthopedists and emerging treatment practices.
At Neurological Surgery, P.C., Neurosurgeon Sachin Shah, MD, combines his surgical expertise with that of Fernando Checo, MD, orthopedic surgeon at The Central Orthopedic Group, to treat spine tumors.
Since 2012, Drs. Shah and Checo have combined their expertise and highly personalized care to treat spinal cord tumors. Both fellowship-trained, they bring a multidisciplinary approach to challenging procedures and provide the most advanced surgical techniques to patients.
"While spinal cord tumors are often highly treatable through resection, many spine specialists aren't experienced enough to deal with the unique risks and challenges those procedures present," Dr. Shah says. "These surgeries have been done for many years, but there's always the concern of causing neurological injury, especially in someone of a young age. So, having highly qualified surgeons who are comfortable treating these types of conditions is paramount."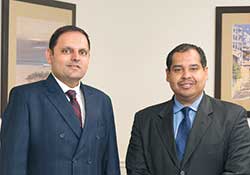 Diagnosis and Treatment
The spinal column is the most common site for bone metastasis, treatment for which accounts for the majority of surgeries Drs. Shah and Checo perform together. Regardless of the type of tumor, however, they consider the same factors — size, neurologic compromise and spinal instability — in determining whether surgery would be beneficial.
"Such treatment decisions are highly consequential," Dr. Shah says. "Left untreated, a benign tumor can cause pain and loss of neurological function, while a metastatic tumor can make patients too unstable for cancer therapy."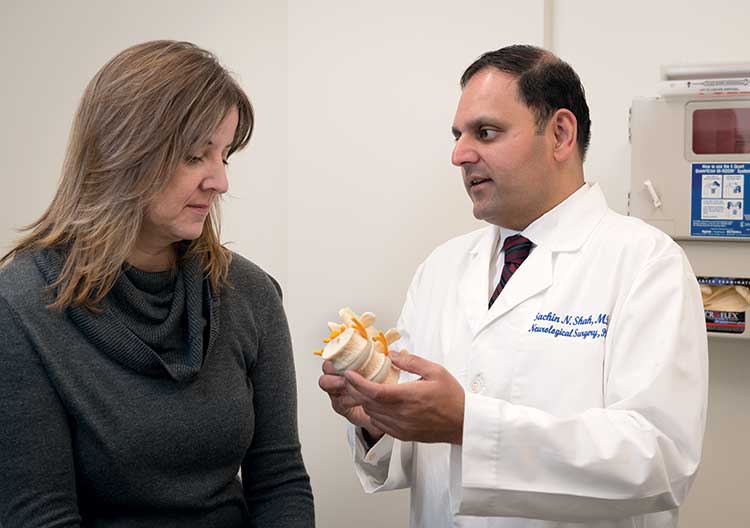 That's why a referral to a spine specialist should be the first step when symptoms present. The most frequent symptom is nonmechanical back pain. But any back pain is worrisome, especially if it worsens at night, is progressive and recalcitrant to anti-inflammatories, or spreads to the hips or limbs. Bowel or bladder symptoms and neurological dysfunction are red flags, as well.
Patients with these symptoms are far more likely to have a degenerative spinal condition rather than a tumor, but they always merit further evaluation.
"Patients often don't know they have a tumor until they receive an MRI," he says. "They come with typical complaints of nerve symptoms — numbness and tingling in the hands or legs."
When a tumor is indicated, a differential diagnosis is postulated based upon the imaging, and a needle biopsy may be performed.
Some spinal tumors, like lymphoma and multiple myeloma, can be treated nonsurgically. Among nonsurgical treatments are observation, chemotherapy and radiation. For tumors causing pathological fractures, a minimally invasive spinal fusion or percutaneous balloon kyphoplasty can reduce pain.
"Minimally invasive surgery should be considered with metastatic tumors, as surgery may not be appropriate when there is extensive disease and a poor prognosis," Dr. Shah says. "A minimally invasive fusion procedure can treat patients' pain, allowing them to leave the hospital in a day or two and return to cancer treatment."
If surgery is indicated, Drs. Shah and Checo consult with other medical specialists to plan treatment based on the patient's prognosis, overall health and goals of care.
Through consultation, the surgeons determine whether to perform a palliative or en bloc resection and how to decompress the spinal cord and stabilize the spine, if necessary. An extremely vascular tumor may require preoperative embolization.
While a posterior approach to spine tumors is still preferred if the tumor can be reached from the back, Drs. Shah and Checo can also take an anterior or lateral approach — or even a staged, 360-degree approach — depending on the tumor's location, extent of resection and neurological goals of stabilization and/or decompression. The lateral approach is often used for thoracic or lumbar tumors because it allows for a smaller incision and eliminates the need for an approach surgery.
About Spinal Cord Tumors
Spinal cord tumors fall into three main categories: intradural extramedullary (inside the thecal sac but outside the spinal cord), intramedullary (inside the spinal cord) and extradural (outside the thecal sac).
Intradural extramedullary tumors account for 55 to 65 percent of primary spinal tumors. Common subtypes are meningiomas, schwannomas and neurofibromas (nerve sheath tumors). Meningiomas are generally benign and appear more commonly in women and patients ages 40 to 70.
Intramedullary tumors account for 5 to 10 percent of all spinal cord tumors, frequently arising from the cervical area. While these tumors are often benign, they are also difficult to remove because of their location. These tumors consist primarily of ependymomas and astrocytomas.
Extradural tumors are often metastatic. Between 30 and 70 percent of cancer patients experience spinal column metastatic lesions. Breast, lung and prostate cancers are the most likely to spread to the spine — the most common site for bone metastases.
The surgical plan is also designed to mitigate risk, which increases with higher or more infiltrative tumors or greater spinal cord compression. Some infiltrative tumors cannot be entirely removed and require further nonsurgical treatment.
"That's where having two spine specialists in the operating room is an advantage," Dr. Checo says. "It cuts down on error, it's faster, and we're able to discuss intraoperatively how to best remove the tumor and at what point we've reached our objective."
Generally, the objective of surgery is to improve quality of life and, if possible, prolong life expectancy. Outcome depends greatly on the age and overall health of the patient and the underlying tumor being treated. Most nerve sheath tumors have an excellent prognosis, for example, but controlling a tumor that's metastasized often becomes more important than the primary tumor.
"Our multidisciplinary approach — including oncologists and a tumor board — helps us deal with these issues," Dr. Shah says.
Recovery depends on many of the same factors. The standard hospital stay for spine tumor surgery is two days to a few weeks, according to the AANS. Rehabilitation can last two weeks to three months, but can extend to one year.
Surgical Teamwork
A cervical tumor resection that Drs. Shah and Checo performed in 2013 illustrates how they work together.
The patient, a 34-year-old male, had presented with simple neck pain radiating down his right arm. Imaging revealed a large extradural tumor on C3-6, causing cord compression.
Dr. Shah admits to being surprised by the MRI.
"The patient denied trauma," Dr. Shah says. "But even in that scenario, you wouldn't think that this patient had a tumor, given the fact that he was young and otherwise healthy."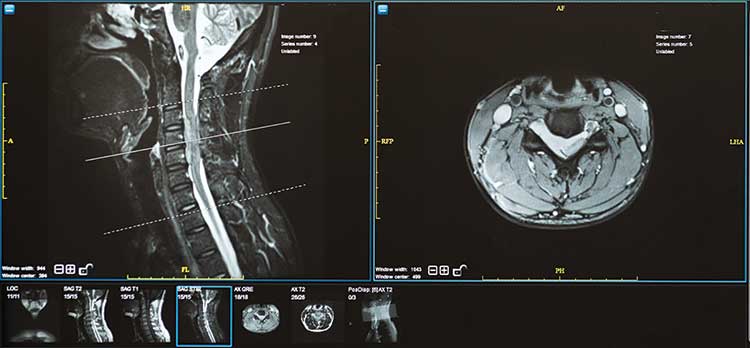 After consulting with oncologists, Drs. Shah and Checo performed a cervical laminectomy and fusion operation with full resection.
Because the tumor covered many levels of the spine, a posterior cervical incision was required. An extensive laminectomy and facetectomy was performed on one side, and microsurgical techniques were used to decompress the spinal cord. The surgeons identified the thecal sac and nerve roots, and then decompressed the nerve roots to provide pain relief and restore neurological function. A small part of the tumor that was intradural was also resected.
Because extensive resection of the facet took place, and because of the patient's young age, Dr. Checo provided instrumentation to maintain spinal alignment over the next 40 years of his life.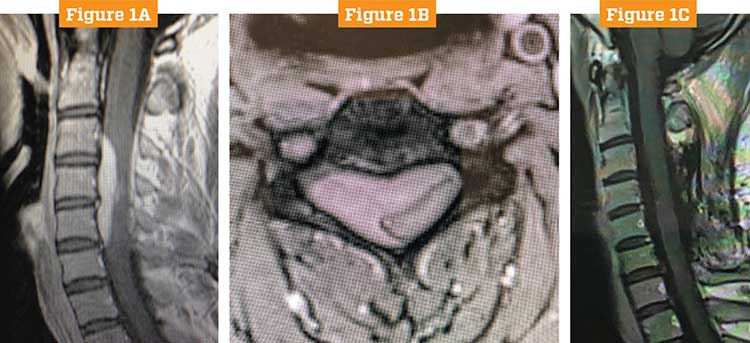 Meet Dr. Shah
Sachin N. Shah, MD, is a neurosurgeon specializing in spinal surgery who performs complex and revision spine surgery to treat conditions such as adult scoliosis, spinal deformities, spinal cord tumors and malformations.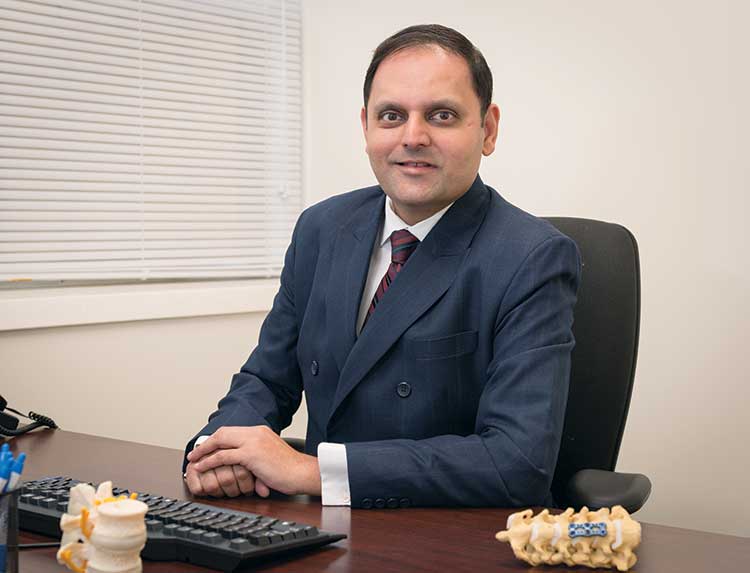 Dr. Shah is a fellowship-trained neurosurgeon who specializes in tumor surgery and various conditions of the spine at Neurological Surgery, P.C. He sees patients at offices in Bethpage and Rockville Centre.
A member of the American Association of Neurological Surgeons and the Congress of Neurological Surgeons, Dr. Shah is in private practice with Neurological Surgery, P.C. in Rockville Centre.
On June 1, 2018, Dr. Shah was named Section Chief of Neurosurgery at Mercy Medical Center.
Dr. Shah received his undergraduate degree in chemistry from the University of Florida and graduated from the University of Miami School of Medicine. After an internship and residency in neurological surgery at Emory University Hospital, Dr. Shah returned to the University of Miami for his fellowship in spine surgery.
Instrumentation, such as screws, rods or bone grafts, is required if spinal column stability is compromised due to either the tumor itself or surgical removal of the lamina and facets.
As a standard of care, the surgeons used spinal neural monitoring to increase safety during the procedure.
"We use neurophysiologists and technicians to assess the function of the spinal cord in real time as we perform surgeries," Dr. Shah says. "It alerts us to any changes of the spinal cord function, which we can treat while we are resecting the tumor."
The patient completely recovered with no tumor recurrence or further treatment, and was able to return to his demanding career with no disability.
Surgeries like this are the culmination of bringing complementary skill sets together, Dr. Shah says.
"I remove the tumor; Dr. Checo instruments the spine. But it's not as simple as that," Dr. Shah says. "What's more important is that we work together, so the patient receives two opinions and two surgeons. It's a multidisciplinary approach in every manner."
An Unexpected Challenge
There may be no better time to have two specialists on hand than when an unexpected challenge arises in surgery. That happened earlier this year, when Drs. Shah and Checo performed what they thought would be a routine resection of a thoracic tumor.
The patient, a 20-year-old female, presented with pain radiating down her leg — enough pain that kept her from sitting for an important medical exam. Her parents, employees at two different Long Island hospitals, wanted her to stay close to home for treatment. Assuming she had a herniated disc, they sent her to Dr. Checo, who ordered a diagnostic workup and found a lesion on the lumbar MRI and then ordered a thoracic MRI. A further workup revealed an intradural extramedullary tumor.
These are the cases that present what Dr. Shah calls "a Catch-22 situation."
"Surgery was recommended for two reasons. First, the size of the lesion was causing severe cord compression. Second, possible neurological demise could take place if the tumor was left untreated," Dr. Shah says. "But therein lies the risk of a young person having surgery. You don't want to do the surgery and cause a significant demise, yet leaving it alone at her young age would mean a high probability that the tumor would lead to her neurological demise."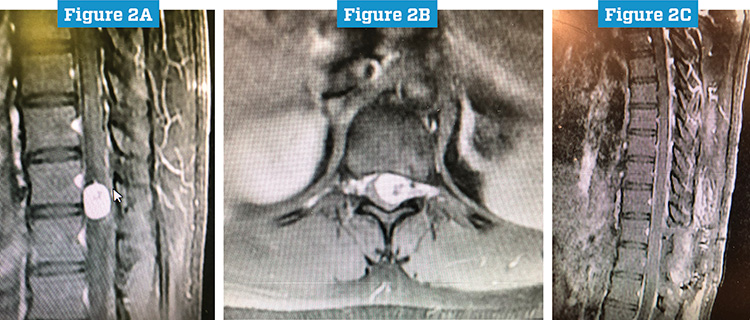 The procedure was a T11–12 thoracic laminectomy and intradural tumor resection. As expected, the 2-centimeter schwannoma was inside the dural sac. When the sac was opened, however, the surgeons faced an unexpected challenge.
"The preoperative imaging made it look as if the tumor was coming toward the surface, which would have allowed us easy access for resection," Dr. Shah says. "But after opening the sac, we saw that the tumor was mobile and had moved anterior. So we had the spinal cord and nerve roots in front, and the tumor was behind the cord."
At that point the dentate ligaments were cut and the tumor microsurgically resected around the spinal cord. Because it was arising off a nerve root in the thoracic spine, it could be removed en bloc. The sac was then closed and the incision closed in layers.
Meet Dr. Checo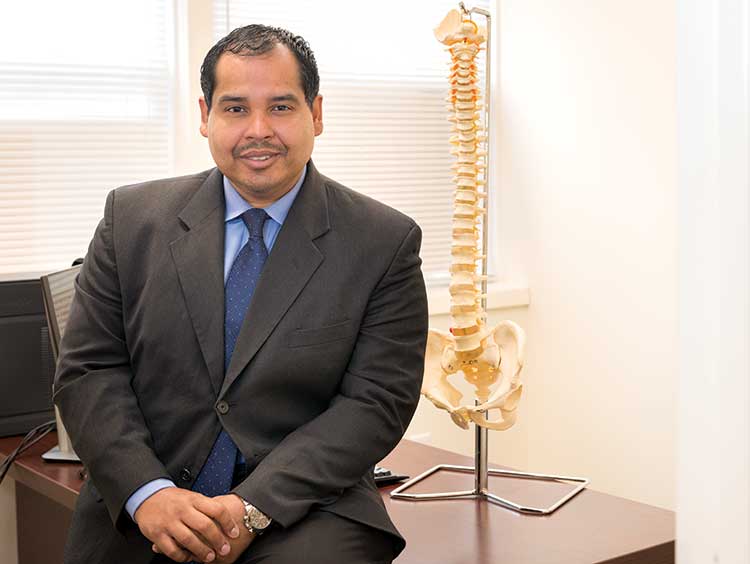 Fernando Checo, MD, is an orthopedic surgeon who specializes in nonoperative and operative management of cervical, thoracic and lumbar spinal conditions. He is an expert in complex spinal surgeries, such as revisions, scoliosis, flat back syndrome and tumors.
Dr. Checo is a fellowship-trained orthopedic surgeon who specializes in reconstructive procedures of the spine at Central Orthopedics in Plainview.
Certified by the American Board of Orthopaedic Surgery and a fellow of the American Academy of Orthopaedic Surgeons, Dr. Checo is in private practice with The Central Orthopedic Group. He is also a Clinical Associate Professor of Surgery at Plainview Hospital and a Clinical Spine Surgery Facilitator in NYU Winthrop Hospital Department of Orthopedic Surgery.
Dr. Checo earned his undergraduate degree in biological science from Binghamton University and graduated from Meharry Medical College. After residency at the University of Connecticut New England Musculoskeletal Institute, Dr. Checo completed a combined orthopedic and neurosurgery spine fellowship at Tufts University.
The patient was monitored in the ICU for 24 hours, where mean arterial pressures remained elevated to perfuse the spinal cord. The patient's total hospital stay was two days.
"Her fast recovery, and the tumor's unremarkable size and pathology, don't reflect the risk and difficulty involved in the resection," Dr. Shah says.
Earned Trust
Each case exemplifies the level of confidence Drs. Shah and Checo have earned among their patients as well as referring physicians — something neither take lightly.
"Imagine what this was like from the parents' standpoint, trusting us to take care of their 20-year-old daughter," Dr. Shah says. "A lot of our discussions about the surgery involved the risks, and this surgery posed the risk of potential paralysis."
Dr. Shah notes that before any spine tumor surgery, he and Dr. Checo spend extensive time in consultation with the patient.
Such personal involvement in each case is something Drs. Shah and Checo take great pride in. And it's another reason physicians refer patients to their care.
"We have one or more conversations with patients for at least an hour, if not more, reviewing the imaging with them and showing them what the problem is so they can understand," he says. "We educate patients about their problems, and then we educate them about the solutions as well as the risks and benefits. So when patients make their decision, they are truly informed."
Drs. Shah and Checo have privileges at Mercy Medical Center, NYU Winthrop Hospital, St. Francis Hospital, Plainview Hospital and South Nassau Communities Hospital, providing patients a number of convenient locations for surgery. They perform many of their surgeries at Mercy, where Dr. Shah has been advancing the neurosurgery program since becoming Section Chief in June 2018.
Regardless of location, Drs. Shah and Checo work together to bring consistent excellence of care to every surgery.