QUESTION:
Ask an Orthopedic Series #AskAnOrtho
"I've just been told that I am a candidate for spinal surgery…will this mean the end to my participation in recreational sports?"
Athletes often assume that a spinal injury or condition that requires a surgical procedure means the end to their athletic career. However, many athletes have returned to their sports and performance levels after having surgery.
At The Central Orthopedic Group, we understand the desire to return to your favorite activities safely and quickly. Dr. Fernando Checo, an attending physician at The Central Orthopedic Group specializing in Neck & Spinal Surgeries, recognizes that an athletes overall fitness, level of competition and the sport played, combined with individual surgical results will impact how soon an athlete can get back on the field, court or rink! People often come into our office asking: "Will spinal surgery mean the end to my participation in recreational sports?" Your doctor will make you a plan to get you back in the game. Spinal surgery is meant to heal you, not limit you!
Here are Dr. Checo's insights and tips for athletes who want to return to their sports following a minimally invasive spinal surgery:
1. Post-Op Advice isn't a Suggestion!
There's a reason that your surgeon is giving you post-surgical advice! Be sure to divulge fully that you want to return to athletics after your spinal surgery; your orthopedic surgeon will keep this in mind when advising a post-operative plan. While you might want to get up and go as soon as possible, following your surgeons post-op recommendations is the ideal way to heal properly and return to the competitive and recreational sports you love. Returning to your chosen sport too soon could potentially undo not only your healing, but the results of your spinal procedure. Post-op advice can include a wide range of information including physical movements, braces or orthotics, and even nutritional guidelines to improve spinal health.
2. Know Your Limits
Even when you do get the go-ahead from your surgeon to return to suit up and get back on the Coach's rotation, you still need to be cautious and aware of limitations. This stage is very patient-specific; only you can measure the level of pain or discomfort you are feeling. If you feel aches, pain or numbness while playing, take a step back and slow down. Be sure to record your pain levels and relay them back to your physician. You may need to slow down and take a more gradual approach to your athletic return. And while that might not be personally ideal, it's much better than pushing your injury too hard. Respect your body and it's individual healing time.
3. Stay on Track with Prescriptions
Following your surgical procedure, your orthopedic surgeon will prescribe a combination of physical therapy and pain medications to help you on your road to recovery. It is imperative that you follow these prescriptions in order to heal. It's no secret that an athlete's dedication to their post-surgical rehabilitation program will greatly affect how well they will perform when they get back in the game!
Professional Athletes Who Have Returned After Spinal Surgery:
Tony Romo
Rob Gronkowski
Peyton Manning
Maria Sharapova
Meet Dr. Checo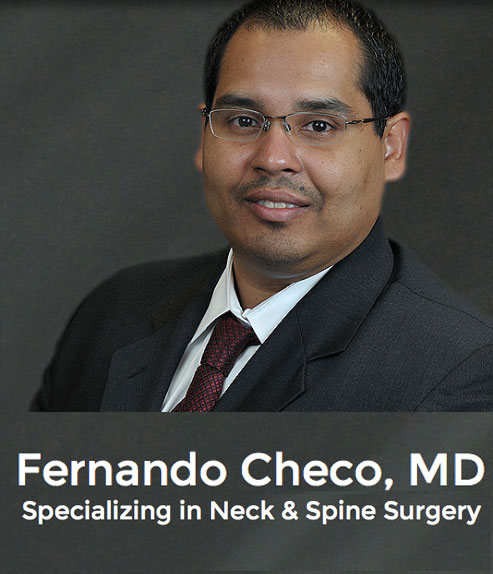 Dr. Fernanado Checo is a Board-Certified, Tufts University Fellowship-trained Orthopedic Surgeon with advanced training in neck and spinal disorders. Holding an Attending Physician position at The Central Orthopedic Group, Dr. Checo holds a multitude of Academic Honors and Awards spanning his extensive medical career. In addition to his many hospital affiliations in the Long Island, New York area, Dr. Checo is also a published physician with top medical journals and organizations, and dedicates his time to professional training and teaching opportunities where he can utilize his bilingual abilities in the medical community.